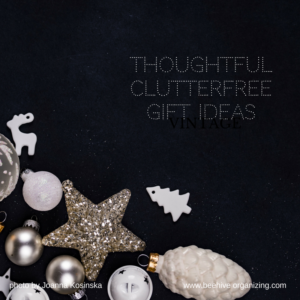 There's no gift that resonates better than one that's thoughtfully chosen.
The key is to give specifically with the recipient in mind: not out of obligation. This is how regifts happen. With so much stuff going underused or unappreciated, clutter-free gifting is the way to go. Read on for some ideas.
Make Something Delicious
If you have time or the inclination to bake, homemade cookies are always well received. I'm a lousy baker, but I love to make my own Irish Cream Liquor packaged in reusable jars for my friends & neighbours. It's so easy to make, but the difference in flavour between homemade and store-bought is remarkable. Consisting of good quality whiskey, heavy cream and vanilla extract, it's quick, easy and relatively inexpensive to make.
Give an Experience
For the super-picky ones, giving a Netlifx or art gallery membership means recipients can create their own experience. For that hard to shop for teen, concert tickets or passes to a music festival are magical. For parents with young children who seldom have the opportunity to go out, offer to babysit. Trust me, this is an invaluable gift.
Give the Gift of Nothing
Nothing? Well not literally. A Beehive Organizing consultation and initial session is affordable and can lead to big changes in the recipient's life. During our initial 3 hour session, I start the de-cluttering process and create an individualized gameplan for moving you toward the clutterfree life you want.