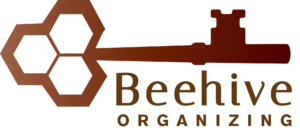 I don't think I can fully articulate how grateful and thrilled I am, about having had the opportunity to work with Liz. She guided me through the, what I thought was going to be painful, process of organizing my life. As it turns out, the hardest part was reaching out and asking for help.
I used to be embarrassed to have people over to my house. I carried a lot of guilt and shame about how my environment had gradually devolved into chaos all around me. It was like my messy little secret. I felt as though I was at the end of my rope. Unable to function in daily life. I spent most of my time "trying" (unsuccessfully) to organize and frantically looking for things. I would buy doubles of items because I couldn't find the originals, which I knew I had somewhere. It definitely was not an environment conducive to good mental health. Not only for myself, but most importantly for my son.
Decluttering and organizing is a very intimate process. l felt wide open and vulnerable. The idea of tackling my chaos had seemed insurmountable for me in the past. Liz put me at ease. Not only did I not feel judged, she brought a sense of calmness and helped me to see that I am my own harshest critic. She helped me to dispel and reframe some of my own negative self dialogue.
I appreciate Liz doesn't use a cookie cutter system. She took the took the time to listen, to both what my words and what my environment were saying to her. This was evident, as she very clearly took my needs into consideration when devising a plan. She worked with me, so I was left with a system that made sense to my brain. Leaving me with the greatest potential of being able to keep it up.
It has been a year now, and I am ecstatic to report, all of the areas she helped me to conquer are still organized! The systems worked! Now, when I need something, I can instantly find it. As a small business owner, not only has this helped to save me time, it has also helped me to save money. I no longer have to re-buy things. I am also able to keep better track of my inventory which has been a godsend to prevent spoilage. Being able to see and keep track of everything makes placing orders efficient and allows me to focus on what I really need to be doing. I also have to mention my files… what she did with my files was a game changer. I could rarely find any papers I was looking for. Not only did she reorganize my files, watching and working with her helped me to learn new skills. Skills I have been able to continue to build upon. To this day, if asked for something, I can usually find it in under a minute!
I whole-heartedly recommend Liz. She drastically helped me to changed my life! Liz is highly skilled at her craft. But most importantly, she will come to you with professionalism, no judgement, kindness and understanding.
Tricia V., Toronto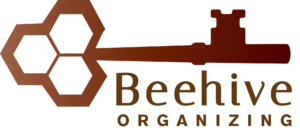 "We had a day and a half to get our house ready before it was being photographed for sale. Liz and her team came in and cleared 23 years of accumulation faster than you can fill a garage! It's hard to watch all of your favourite possessions being removed, but it was done in the most caring and respectful way. Liz was very well organized, with all boxes carefully packed and clearly labelled. I will be calling her again closer to our moving day! Thanks for a great job."
Caryn L. , Toronto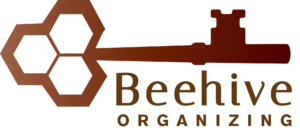 "To be organized is a beautiful thing!"
 "You'd think that someone coming into your home could feel intrusive, but Liz is remarkably unobtrusive. Her easy-going manner is entirely non-judgmental. My home looks and feels like a before and after picture for a magazine. Everything she's done makes the day-to-day goings on so much easier.
Life if just better post-Liz."
Lee K., Toronto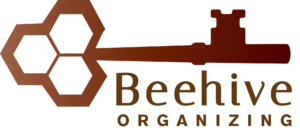 "Working with Liz was a real treat! We tackled my kitchen which is the largest room in our house. Liz's approach was very focused as she took the time to gain an understanding of what I was hoping to accomplish. She came prepared with feasible ideas, strategies, and a very calm demeanour. She also left me with easy solutions to use elsewhere in my house – and tactics to keep the newly organized space functional and clutter-free. Throughout, Liz was very respectful of my privacy as we went through everything and helped me parse out items into keep, go, recycle, and donate groups. But the best part?  How appreciative my family was when they saw the transformation!"
Susan S,  Toronto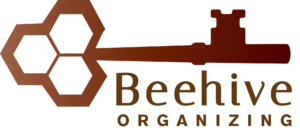 Wonderful experience with Liz — in our first three hours together, we calmly and productively made a plan, after she listened to my needs. Then got half my office organized with good teamwork! Her eye and set dec/costume background additionally makes her a problem-solver with everything from furniture and space issues to curtains and upholstery.
I've noticed over the years that many contractors approach decluttering as a) a kind of therapy, and of course there is a place for that or b) a put-down of the person by the super-neat and officious declutterer  or c)  some weird pop psychology "system". I am delighted to report that Beehive is none of the above!   I work hard and have priorities which leave me little energy for these tasks.
And Liz is the real thing; a professional, experienced woman with excellent judgment ready to be a helpmate, directive, thoughtful and an extra brain when time is short, spaces in older homes are awkward and home staging and organizing are as important as a contractor,  electrical or plumbing role. Way to go, Liz!
Julia B. , Toronto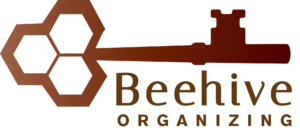 I started working on my place with Liz a month ago and keep bringing her back to do more. She managed to get 10 file boxes of papers and supplies from my work packed and sorted neatly into one tiny cluttered closet (where there was room for zero boxes). I have access to my ironing board now! She is inspiring me to do new things in my apartment (make room in the closet by putting up a coat rack!) and is schooling me in her decluttering ways. She patiently sat with me while I sorted through loads of boring old files and keeps coming up with ideas to make my life easier. I am feeling hopeful that I will be able to soon access the clothes in the back of my closet with her help, and that I may become the organized person that I always wanted to be but could never bring myself to be. Big fan of Beehive Organizing! Telling all my friends.
Deborah Y. , Toronto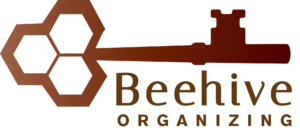 "Two words can describe Liz Fox and Beehive Organizing: GAME CHANGER.
Her work decluttering my home was done efficiently and empathetically.  And she helped me develop new systems that work with my lifestyle to keep my space organized and clutter free.  She has a keen eye for design and made great suggestions regarding decor and furniture that improved the overall look and feel of my space.  I felt suffocated and overwhelmed prior to consulting with Liz, but I can now finally breathe and be proud of my home."
Samir M,   Toronto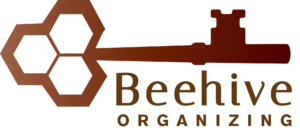 "Liz spent 4 days working on our basement.  She unpacked moving boxes, re-arranged furniture, organized tools storage, installed bookshelves, and made thematic areas.  To our delight, it became a useful, spacious, cozy family room.  The result has led us to continue with small improvements, as it was an inspiring transformation."
Maggie O, Toronto